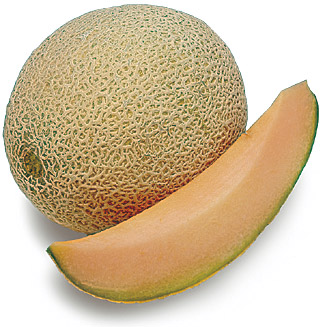 Well, surely you have seen the sto­ries in the news regard­ing the out­break of Lis­te­ria bac­te­ria in can­taloupes that has sick­ened at least 70, killed 16, and it ain't over yet. It's dis­tress­ing when this sort of thing hap­pens, espe­cially when you see it's not junk food that's the cause.  It is the foods that have gen­er­ally been regarded as healthy:  can­taloupe, alfalfa sprouts,  papaya, spinach, ground turkey — that are respon­si­ble for mak­ing peo­ple ill and even end­ing their lives instead of sus­tain­ing and improv­ing them.
You know that it is more than an iso­lated case, too, when you see a retailer as large as Costco demand­ing that higher stan­dards must be met for the pro­duce being sold in their stores. But is the cre­ation of more rules and bureau­cracy for large-scale grow­ers of pro­duce the answer here?  Or should we be zoom­ing out even fur­ther to exam­ine why we have large scale grow­ers in the first place?
The farm that the affected can­taloupes have been traced back to is Jensen Farms, in Holly, CO. Now, I'm not say­ing that they are nefar­i­ous peo­ple at all — they obvi­ously did not want peo­ple get­ting sick. What I am look­ing at is the farm­ing sys­tem of which Jensen is a part. The Farm to Con­sumer Legal Defense Fund posted a link to this site on their Face­book page yes­ter­day, and it's quite telling. Check out this map show­ing the huge pop­u­la­tion of CAFO's (Con­cen­trated Ani­mal Feed Oper­a­tion) in the area where they are located. Prow­ers County, where they are located, is cat­e­go­rized as "Extreme," and so are five out of the six coun­ties that bor­der Prow­ers — with the sixth being "Severe."
So, what does that mean? Well, so many CAFO's in an area means that there are a lot of ani­mals. And with a lot of ani­mals, there comes a lot of poop. Deal­ing with ani­mal poop is some­thing every farmer must do. When there is an appro­pri­ate amount of ani­mals for a graz­ing area, nature is quite effi­cient at tak­ing care of break­ing it down prop­erly. In fact, the poop can really ben­e­fit the land, becom­ing a soil amend­ment that pro­vides more food for the microbes and the  green stuff grow­ing, which in turns, nour­ishes the ani­mals, who in turn, nour­ish us. And that's how it should be.
But not so in a CAFO. In those oper­a­tions, ani­mals poop in a small area, and it builds up. Often, flush­ing sys­tems are used to wash the poop into what is known as a "lagoon" — basi­cally a big stor­age tank for poop. It's usu­ally store there for months, where it starts to break down and cre­ates harm­ful gases dur­ing that process. These lagoons can rup­ture and flood, and some­times, even a heavy rain­storm is enough to cause an over­fill and sub­se­quent con­t­a­m­i­na­tion of the sur­round­ing soil and water.
Some­times the manure is shipped to neigh­bor­ing farms that are grow­ing pro­duce, and used on the fields as fer­til­izer. But these CAFO oper­a­tions pro­duce more poop than the fields can ever absorb. Fur­ther­more, most states don't require any treat­ment of ani­mal waste — which would be fine, if it was man­aged prop­erly, but it's not. So it's easy to see a mul­ti­tude of pos­si­ble means by which pathogens from ani­mal waste could end up get­ting on fruits and veg­eta­bles being grown near a CAFO.
I'm with Joel Salatin. I think we aren't ask­ing the right ques­tions. I think instead of pon­der­ing "How do we make CAFO's and indus­trial farms safer?" we should be ask­ing "Why are we doing things that way when we know it's unsafe and unsus­tain­able?" I think we should be ask­ing "Why are we try­ing to pro­duce food on an assem­bly line?" I believe that we should be reshap­ing our think­ing about eat­ing sea­son­ally. I think if we did, and we all got to know where our food is com­ing from, I mean really got to know that, we'd change the way we do things. I think the local food pro­duc­tion is the answer.
I don't think that we should be eat­ing toma­toes from China year-round. They should come from our own back­yards, or the neighbor's, or a local farm when they are in sea­son. They should have a real fla­vor that was brought about by ripen­ing in the sun­shine, not because they were picked green, put in a ship­ping con­tainer, and ripened arti­fi­cially with eth­yl­ene.  And in the win­ter, they should come out of a Ball can­ning jar, because we put them up when they were in season.
Are these unreach­able ideals? Well, per­haps lofty, but not impos­si­ble. Yes, it's hard work. But I think it's also worth it, to know that we have a safe, life-giving (instead of death-bringing) food sup­ply in our pantries and chill chests. We are work­ing hard to make that a real­ity here. We're not 100% there yet our­selves, but we are mak­ing changes to get there. Have you started chang­ing and improv­ing your own food sup­ply? If so, what kinds of things are you doing? We'd love to hear from you in the comments.
To read more about the prob­lems with ani­mal waste man­age­ment on CAFO's, please visit the Sus­tain­able Table website.