[easyreview title="Goat Health Care, by Cheryl K. Smith" cat1title="Books" cat1detail="A great compilation of health information and tips, compiled from Ruminations. " cat1rating="4″]
Reviewed by: Trase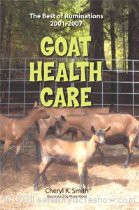 This handy reference is a compilation of articles regarding goat care that have been published in the caprine magazine Ruminations over the years. It covers a variety of goat health subjects, from kidding, to Johne's Disease, goat massage, parasite controls, and really handy medication guides. There are even articles addressing the practical matter of proper disposal of bodies when goat deaths are suffered, and the human side of the equation after that occurs – how to deal with the grief of bereavement after your beloved goat dies.
Although this is a compilation of separate articles, and not a formally chaptered book, there is still a very handy index for locating the information relevant to your interests, which is a nice touch. I've encountered other compilation type books (not goat related) that do not offer this tool, which has made them a bit frustrating to use. So kudos to Cheryl for providing us with that!
The information is presented in an easy-to-understand manner, which seems to be a hallmark of Cheryl's writing style. Although she did not author every article within, the other authors share her love of clarity and helpfulness, and it's much appreciated.
This book could be difficult to find, as it seems to be out of print. However, there are still some sellers out there offering it, and so if you are a goat owner, and you encounter a copy, pick it up post-haste! You can click on the book image here in the review to check whether any copies are available on Amazon at the time you are reading this – it's definitely worth a try!
Disclosure: Our copy of this book was provided for review by the author. We really do recommend it, regardless of how we obtained it, however. We are not a review site and do not make a living from these reviews, we simply want to share our experiences with our readers. 
Related Images: