Our 14-acre farm is located in Tyrone Township, Michigan, which is in the Northeastern-most corner of Livingston County, just south of Fenton, Michigan. It was named after the county Tyrone, within the province of Ulster in Northern Ireland. It's still a rural township with a part-time government.  Fenton is the closest town, and provides us with a shopping area for groceries and some chain stores, along with quite a few independent businesses, which we like to frequent whenever possible.  We live on a dirt road, but within ten minutes, we can be in the parking lot of Tractor Supply or Target.
My husband and I were married on 19 April 2008, and we knew we wanted to get out of the city. We both worked in downtown Detroit, lived right on the city border, and we wanted some space between ourselves and the neighbors in which we could grow a garden, keep some animals, and build ourselves a homestead. Being able to develop our self-reliance skills was a growing interest in our lives, and we decided that one of our requirements in a new home would be that it sat on at least five acres.
We ended up seeing this house and property at the last minute one day while looking at some other places, and it just serenaded us into making an offer. It also helped that our son loved it and signed the word for "please" when we asked him what he thought of the place. 🙂  It was further north than we had targeted, and more property than we were expecting – in fact, we were a little nervous it might be too much for us! We chuckle at that notion now, and given the opportunity, we'd go further north and seek an even larger plot of land. But we are really quite happy with what we  have, and grateful to be enjoying it ever since we moved in at the end of September in 2008.
Our house was custom built by the previous owners in 1993, and is a one-story ranch with a full basement. It faces the southeast, so we get plenty of sunshine throughout the day. We sit 1/8 of a mile off of the road; our house cannot be seen from the road, and we rather like that.
The property had an existing pole barn and two little outbuildings (one being the chicken coop), as well as a fenced garden, which has proven to be very valuable, given the dense population of whitetail deer that inhabits our area. We would not harvest much from the garden without that eight foot tall fence! It was made with old power line poles that were cut into shorter lengths and recycled as fence posts, with wire mesh fencing all around. The utility company is in the process of replacing lines in the winter/spring of 2010, and we have asked for any of the old poles they replace. We are hoping to use them to expand the existing garden, add an overhead enclosure to the chicken yard, and create a goat yard.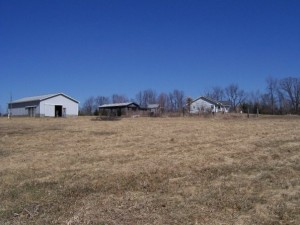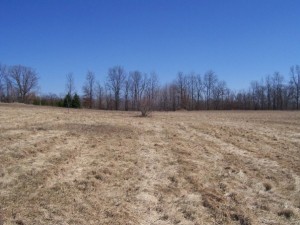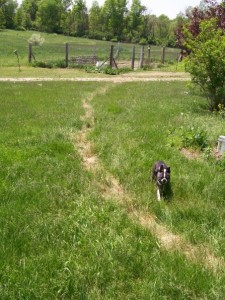 The previous owners had kept honeybees, and they left behind two active honeybee boxes. We are going to be starting our beekeeping careers in the Spring of 2010 – honey doesn't get much more local than your own backyard!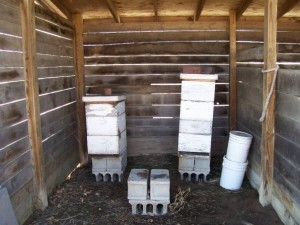 We have six dairy does and a wether in our goat herd. We will be expanding our herd by breeding these girls for good milk production, and the resulting ability to make delicious cheese! Next spring, we expect to have several baby kids bouncing around the farm.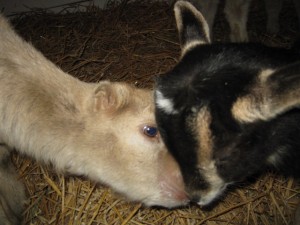 Our vision for the farm includes not only providing our own family with food, but we also hope to produce enough to create a small farm business, selling farm-fresh eggs, responsibly grown garden produce, honey and honey products, and goat's milk artisan cheeses. I was laid off  from my job due to the poor economy in March of 2009, which has been both blessing and bane. I have more time to pursue our homesteading activities, but our ability to fund those ventures has been limited. In order to create an additional source of income, I am also providing website development services, with a focus on small family businesses.
My husband is quite handy, and so we are really fortunate, in that he can repair or build just about anything we need. We share an interest in building our respective skill sets, whether it involves farm stuff, house stuff, cars, computers, hobbies, etc., and learn quite a bit from one another. We are working hard to pass along these skills to our son.
If you have any questions for us, please feel free to use the Contact Form to send us a message.
Related Images: