My sinus surgery was performed this past Wednesday, and I've been busy recovering and trying to keep up with the bare essentials around the homestead. I'm really hoping that this operation was worthwhile, because there is some pain to endure in the aftermath, and I'm still not breathing through my nose (although I'm assured that this is normal, due to swelling.)
Despite the downtime, I've also managed to get quite a bit accomplished, and I'm grateful my husband was able to take time off from work to assist me. Our goats are doing well, and it seems that Gidget and Heidi are both pooping normally now, with Winter the last to still have the squirts. But, she is the largest, so I suppose it makes sense that she will take the longest to adjust to the diet, too. Our vet will be back in town this week, so if need be, we will be requesting a visit to insure that all is well.
The chickens are growing like mad, and our poultry census has shown we have a high population of roosters. We will be keeping two of them, a Welsummer (my Kellogg's Cornflake Roo) and our lightest Buff Orpington, who has been very diligent in his duties already – he has a great crow, and alerts the other chickens when I bring in new water and food. He's pretty friendly, too. Mind you, he doesn't want to hop in my lap, but he doesn't treat me as a threat, either, and I'm heaping praise on him when he works to help the rest of the flock, which he seems to enjoy. I found someone who will be taking on our extra roosters; he is building a huge enclosure and wants to take on any chickens folks are willing to donate, even roos. So, we'll be contacting him this week to get the extras over to him.
Tractor Supply is having their Chick Days event at our location this week, and we will be buying some pullets (females) – Black Australorps and Easter Eggers. I've decided against going with the Black Copper Marans for now, as they are quite expensive (about triple the cost of other chicks) and they do not appear to be very cold-hardy. The Australorps are supposed to continue laying well even in cold weather, and the Easter Eggers are also tolerant of the cold, and lay pastel colored eggs in a variety of shades, which will be nifty!
Tonight I got one tray of seeds started, including some flowers: Starlight Scentsation and Giant Exhibition Coleus, as well as some veggies and herbs: Shishito Peppers, Sweet Chocolate Peppers, Wisconsin Lakes Peppers, Hot Portugal Peppers, Giant Prague Celeriac, Bronze D'Amposta Onions, Yellow of Parma Onions, Royal Marvel Brussels Sprouts, Rosemary, and Oregano. I saved all of my plastic trays from last year's seed starting and purchased one set of 72 Jiffy Pots, which I used on this batch: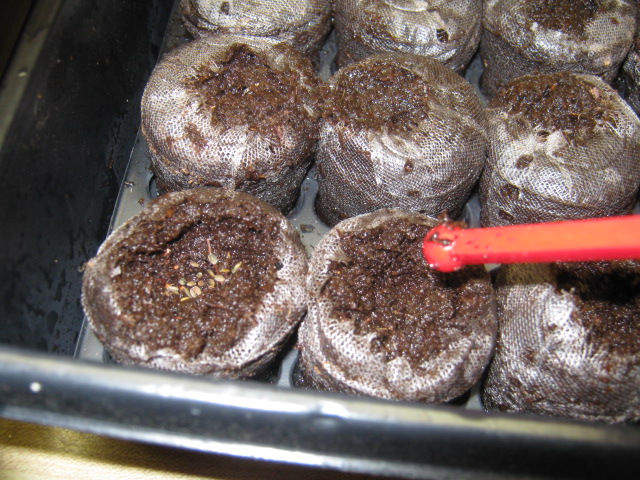 Why, yes, I do use a cocktail swizzle stick as a mini garden dibble.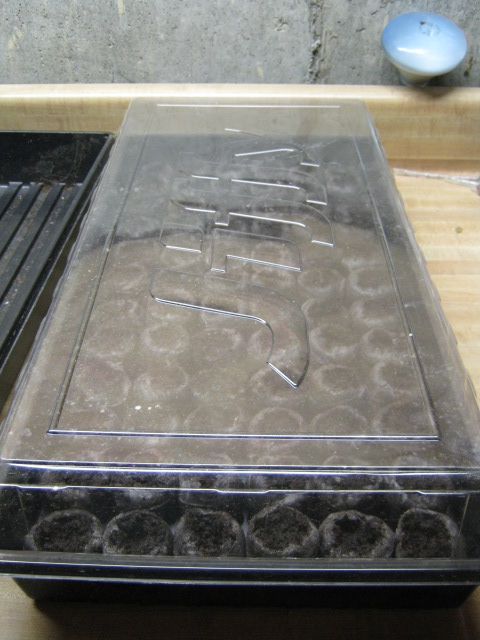 The mini-greenhouse, all planted and ready to grow.
I have also been saving plastic deli containers, paper towel and toilet paper rolls, and dryer lint. What do these all have in common? Let me show you!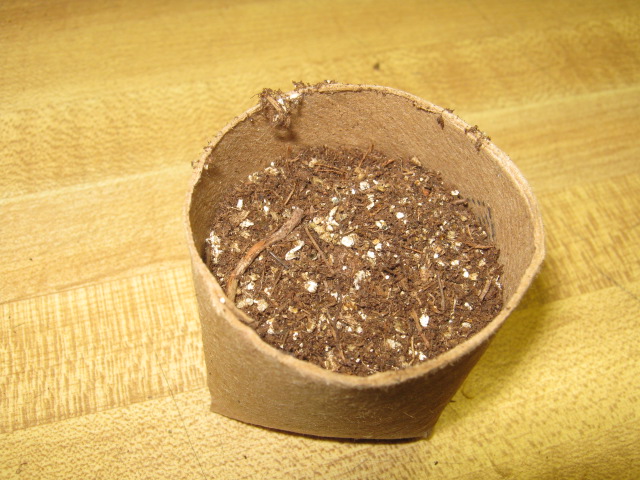 Combined together, you can create homemade seed starter pots and mini greenhouses. I am a fan of re-purposing and recycling within our household. Much of the stuff that folks spend time separating out for curbside recycling unfortunately ends up in the same place that the rest of our trash does, so I'd rather find ways to re-use things ourselves, and save some money in the process!
Here's how you do it. Cut about a 2.5-3.0″ section of tube: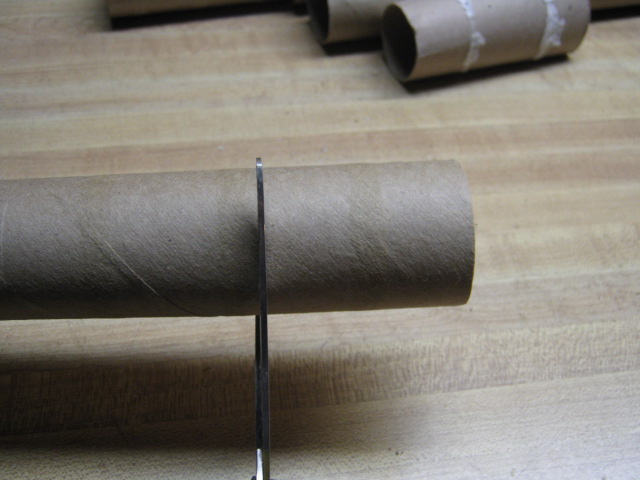 Then, cut four slits at even increments around the tube, about 1″ in length. You don't have to be Sheldon Cooper Accurate, just approximate.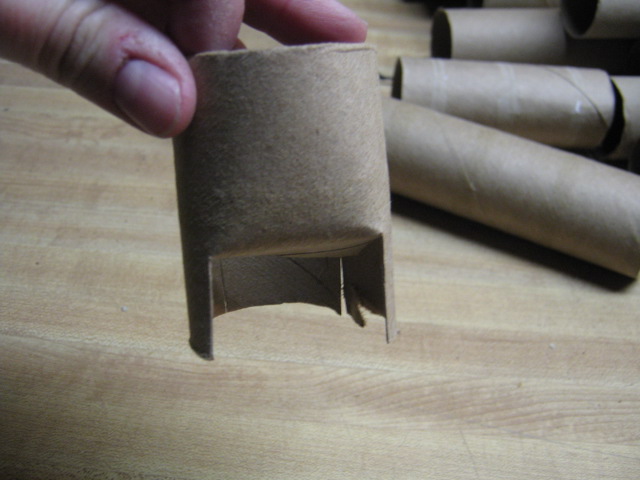 Then fold them up like you would when you close up a box.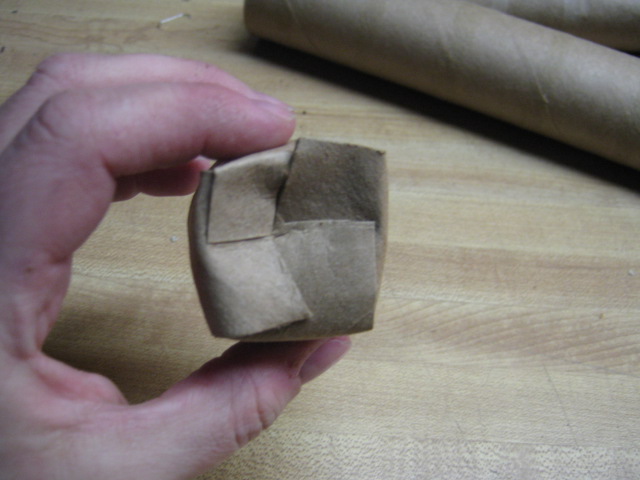 Next, take a small wad of dryer lint and push it into the bottom. Its purpose is to prevent any planting medium from leaking through the bottom.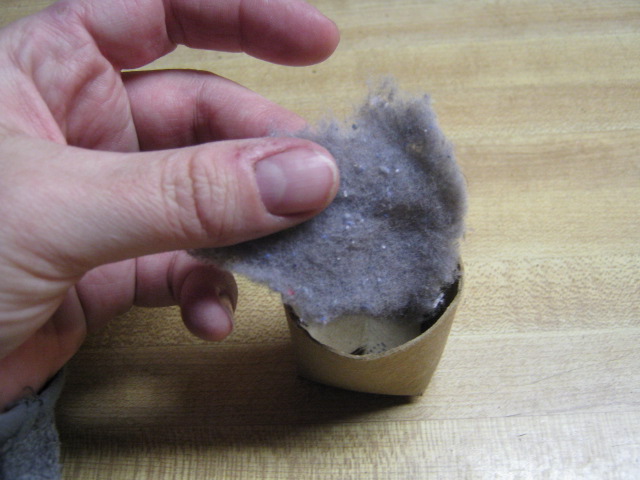 Add a spoonful or two of planting medium, and BAZINGA! Planting pot. Just use a Sharpie marker to write what you are planting on the side to make it easy to identify. Then these will all go into the aforementioned clear plastic deli containers and set under the grow lights. The cardboard and lint are bio-degradable, so you can plant them into the ground or a larger peat pot. I like to unfold the bottom when I do so that the roots have an easier time of growing.
I have many more seeds to start this year, and tomorrow I'll be using some of my homemade pots to start some Wormwood, Lamb's Ear, Bunny Tails, Cherry Brandy Rudbeckia, and Rainbow Loveliness flowers. There are several varieties of poppy seeds that need to go directly in the ground ASAP, and I think I will be using the mini tiller that my uncle graciously lent us long-term to prepare the bed on the side of the house to receive those this week.
There are many more veggies, herbs, and flowers that will need to get started in the coming weeks as well. I'm going to work on getting a spreadsheet detailing them all completed that I can share here. I will likely have extras of some of the seeds, so if anyone is interested in trading some seeds, do let me know!
Now, I'm off to feed some hungry goats.
Related Images: