Here's hoping that your weekend was enjoyable and a great kick-off for the summer season! Ours was packed with activity, as usual, including, but not limited to, planting (potatoes and sweet potatoes), lawn-mowing, procurement of chicken coop supplies, swimming (yay!), and a host of other things that I can't recall at the moment.
One of the standout memories is that we found a riding mower on craigslist that we thought would work great for use around here. Not only could I help with the mowing of the 4 acres we have designated as "yard," but it came with a little tilting utility trailer that we figured would come in handy. We brought it home on Sunday, and it ran fine for about an hour, just enough time for me to get used to it and start mowing, when it started blowing fuses. Well, after causing both George and I to blow our own fuses in frustration, and a trip to the auto parts store for a box of spares, we discovered that it was the safety feature – a harness beneath the seat that causes the engine to turn off when there is not someone sitting in it had been shorting out. Needless to say, that is no longer a feature on this machine. 😉
Unfortunately, once we got it going, we determined that a bearing has also gone bad on the mower deck, so it was doing a haphazard job of cutting the grass. Wow, were we feeling like Mr. Furious. George, in an inspired moment, removed the mower deck, and used a hitch he had welded together a year or so ago for taking out our trash can (which hadn't worked out well for that purpose) to modify our Scag landscaping mower. Please excuse the photo quality; this is from my phone. It's not always practical to carry the camera while we are working around here.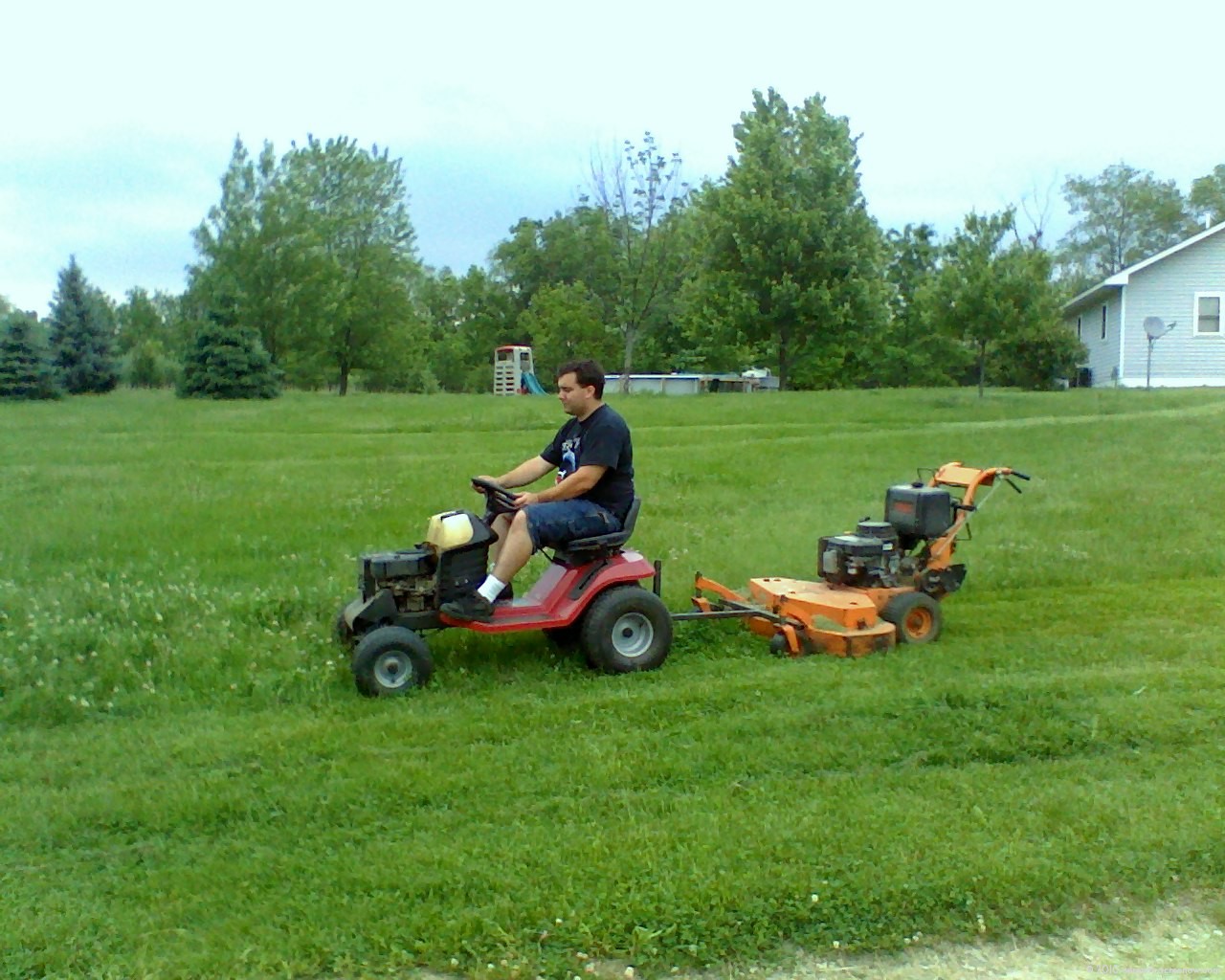 Although we have not yet reached our goal of having the ability for both of us to mow simultaneously, at least mowing will be somewhat more comfortable now, as the sulky (little stand-on cart) that goes behind the Scag keeps breaking, so it means walking behind that orange beast.
With an idea that any fan of Red Green can appreciate, we are conspiring to locate 3-4 used 20″ mowers and modify them so that they can be towed as a 60-80″ wide mowing deck behind the tractor. Until that happens, at least mowing with the Scag will be a bit less miserable than it has been.
We need to finish mowing tonight, as the next four days have thunderstorms predicted. A couple of those rolled through yesterday, but I was glad for it, as the All-Blue and German Butterball potatoes I just planted yesterday morning could use the drink, as well as the Beauregard Sweet Potatoes that were planted on Saturday!
This upcoming weekend includes plans for a family gathering and we must-must-MUST get our remaining plants in the ground. I'll be working to get some of that task completed during the week. It's hot, and the work is tiring, but as I dug the trench for the potatoes yesterday, I just kept thinking about how good it will be to know how our food was grown. There's something invaluable about that.
Related Images: