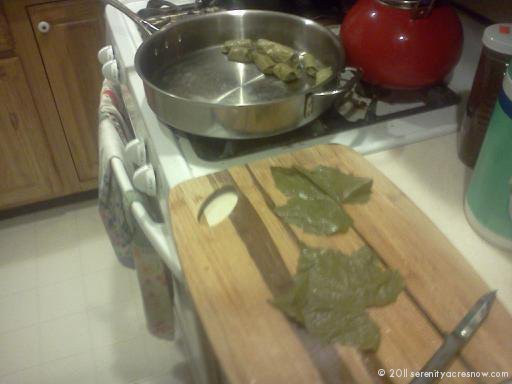 'Tis the season for using all of these early summer crops, and I've been busy doing just that. Over the weekend, I made some stuffed grape leaves. We have wild vines growing on our fences and so I foraged away, added some stuffing (rice, tomato, pine nuts, salt/pepper, cumin, and olive oil) and then cooked them up, drowning them in lemon juice toward the end. For a first attempt, I'm fairly pleased with them. There are plenty more leaves out there, so I'll have at least one more opportunity to refine my skill with these. The biggest challenge is determining the proper amount of filling, so that the ratio of stuffing to leaf is correct from a taste/texture perspective, but not to overload them and have the leaf split open during cooking.
We picked up some strawberries at the local orchard over the weekend as well – normally, we do the U-Pick option, riding the hay wagon out to the back of their property to select our own straight from the plant. But it was really hot and humid, the place was packed with other folks and some hordes of uncontrolled children, and I wasn't feeling so hot, so we broke down and just bought the pre-picked ones from their store. The strawberries collaborated with some fresh rhubarb from one of our plants and we now have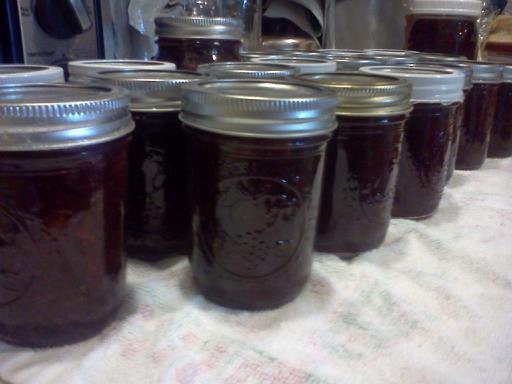 our annual supply of strawberry-rhubarb jam ready. In a couple of weeks, we'll go back for cherries, which I will use to make preserves, and I'm going to try my hand at making a cherry pie, too. I want something with cherry juice soaking into the crust a little bit, not this goopy canned cherries filling that seems to be the standard anymore.
I've been battling some health challenges again, which have put blog-writing on the back burner. I'm really hoping that this humidity breaks so that I don't feel like I'm drowning every time I go outside and try to breathe! I'm sure I'm not alone in that wish, either. 🙂
Now, I'm off to make some goat milk mozzarella. Have a wonderful Wednesday, all!
We hope you enjoy this blog and the antics of our farm. If you'd like to see spe­cial updates, includ­ing pho­tos and inter­est­ing farm­ing and food related links, please become our fan on Face­book, and if you use Twit­ter, by all means, please fol­low us there.
Related Images: