If you follow the food rights movement at all, you may already be aware of what happened recently at Quail Hollow Farm in Nevada. During a by-invitation farm-to-fork dinner event in which farm foods were being prepared on-site by a professional chef in certified kitchen facilities and served to guests who were fully aware of the source of the foods (in fact, that was what held appeal for them!), a state health inspector from the Southern Nevada Health District, Mary Oaks, showed up and started bullying and harassing them. This, despite all of the measures taken to insure the safety of food preparations. You know there's a high level of bureaucratic balderdash when fresh vegetables that have been cut up are labeled a "bio-hazard."
The Farm To Consumer Legal Defense Fund was called, and they pointed out that unless the inspector had either a search or an arrest warrant, the owners of the farm, Monte and Laura Bledsoe, could simply ask the inspector to leave their property. And that's what they did. The inspector grew irate and announced she'd be calling the police.
This farm is in a rural area, and the small police department officers knew the farm owners. They arrived and quickly diffused the situation – if the inspector was not charging the farm with any violations, then she had no further business there. They weren't going to issue a citation, and if the health district wasn't issuing one, they had no reason to leave an inspector on-site. They asked her to leave. It is a relief to see that that the local police were not bullied by a state agent into doing her unfair and unlawful bidding. No laws were broken, so she had no business continuing to badger these folks and their guests.
One outcome of this is that the County Commissioner, Tom Collins, who used to serve on  the board for the Southern Nevada Health District, is outraged and calling a meeting between him, the current board members of the health district, and the Bledsoes, to try and figure out what happened here and how to prevent this sort of asinine affair from occuring in the future.
As Laura Bledsoe pointed out in her written account of the unfortunate events of that evening, this sort of attitude and action on the part of some bureaucrats brings to mind Thomas Jefferson's words in the Declaration of Independence:
"He has erected a multitude of New Offices, and sent hither swarms of Officers to harass our people, and eat out their substance."
How said is it that we are facing the same sort of authoritarian harassment in this, the 21st Century, in the country that has led the charge for democracy not only within our own borders, but around the world?
If you believe in personal food freedom, please consider making a donation to the Farm To Consumer Legal Defense Fund, or joining as a member! If you have a small farm, this is definitely something we'd recommend. Even if you are not – if you want to see the interests of small farmers and your right to deal with them protected, you can help by donating to this awesome organization, which works to protect the rights of consumers to purchase fresh, nutritionally dense foods direct from farms.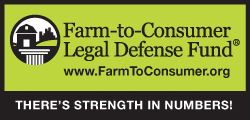 We are not being compensated to suggest this – it is just something in which we firmly believe. Our farm is a member of FTCLDF and we agree with Joel Salatin, of Polyface Farms – it is like the NRA for small farmers – protecting and serving our interests. But it needs financial backing in order to continue working in that regard. This is a "we the people" sort of organization, because obviously, big corporate farms do not have an interest in donating to protect the little guys. So it's up to those of us who want our food rights protected to make sure that FTC can keep doing that.
Finally, we'd like to recommend that you read Laura Bledsoe's full account of what happened that night – which you can do here – and there are also several videos you can watch, which are linked from the same page.
Just some "food for thought" for you to consider. I'm running down to close up our poultry houses for the night before it gets too dark!