The title of this post is frankly, about all my brain is capable at the moment. Folks, I'm worn out. And the week has only just begun!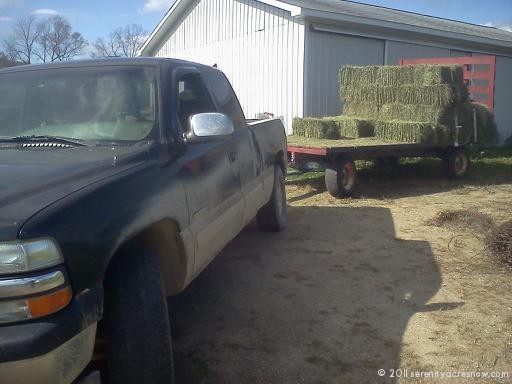 We had an exhausting weekend. It was hectic, with quite a lot of driving around, and yesterday, we unloaded part of our winter hay supply. We were really grateful; our hay supplier loaned us his hay wagon to transport it in one fell swoop. But wow, it was a lot of work. And I only staged bales on the wagon for George to move into the barn, so I feel like I barely contributed. But still, I'm quite sore.
I'm busy getting ready to travel with George to Grand Rapids tomorrow afternoon, where I'll be speaking on using the web and social media to promote your farm at the annual American Dairy Goat Association convention. This year's theme is "Grand Adventure." I'm going to be sharing what I've learned in our adventures of promoting our farm on the web with others, and hope that it will be well-received.
One of our girls had a date last night! Ginger was quite clearly in heat when we went out to milk yesterday morning, as evidenced by Maryman's rapt attention paid toward her. So we visited our friends at Paw Paw Farm and Ginger successfully mated to their buck Hercules. So, we will have babies from her sometime around March 16th. (Goats have a five month gestation period.)
We are trying to stagger out our breeding schedule this year, so that we will not have to stop milking in the winter. We will be giving each doe the last two months of her pregnancy off, so that she has the energy and resources to dedicate to the kids – who grow the most during that time.
Well, today has flown by, and I need to get started on dinner – there's a pork belly in the kitchen in need of cooking! See you back here soon. 🙂
Related Images: