Phew. It's hard to believe that it's been so long since my last update. But then again, it's not. Have we ever been swamped. Between Springtime building projects, twenty goat kids being born, our first batch of meat chickens being raised and going to the abbatoir, Handsome Husband's new job taking away significantly more time from him, vehicle breakdowns and repairs, health issues, and getting the garden in, we've been running hard and on very little sleep. So "something's gotta give," as the saying goes, and unfortunately, the blog was one of the first candidates for giving way.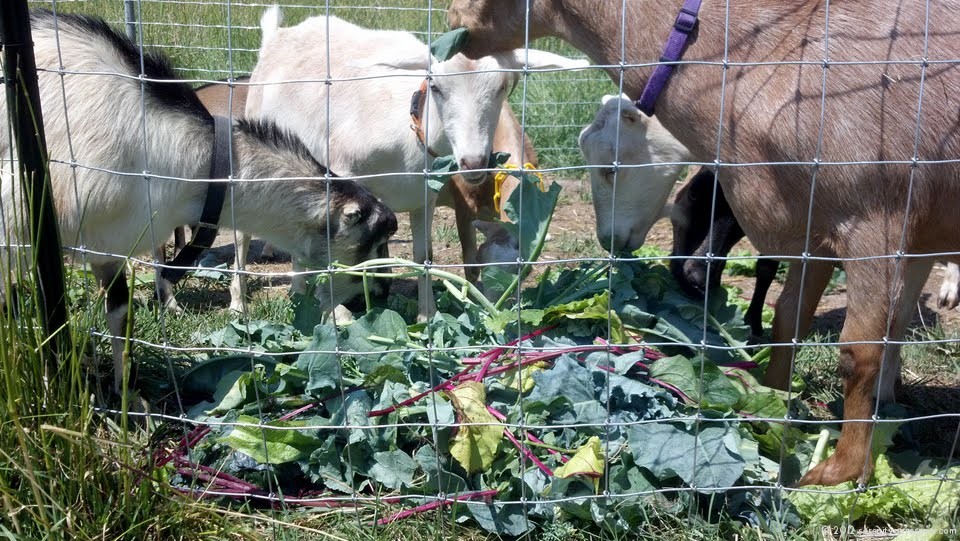 Our goats enjoyed some wonderful treats from my parents garden on Wednesday, including broccoli plant leaves, beet greens, and romaine lettuce. There were also some semi-frozen baby carrots that were quite popular, especially in the heat we've been having of late! They are enjoying their new pasture paddock, which has been in place for just over a month now. We had been taking them on walks on pasture, but that became impractical with a herd of forty, so they have free access to their paddock, and we have plans to put in another this year so that we can rotationally graze the herd.
The garden is coming along in our high tunnel, and we look forward to enjoying fresh produce through the summer. We didn't get our started plants in until a couple of weeks ago, but with the extended growing season provided by the tunnel, we should still be in good shape. We are also working on adding a larger tunnel this year, but the soonest we'd have that is for a Fall/Winter crop. We'd like to grow salad mix, beets, carrots, and kale as cold-weather crops and make those available for sale.
We've realized that we are running ourselves ragged, and so we are trying to really focus our efforts. There are many, many nights when we are not eating dinner until midnight because we have been busy with chores for several hours. And we are both hypoglycemic, so that can get really snarly. We're starting with trying to scale back some of our animal care chores, as these take up extensive blocks of time. As such, we will be downsizing our duck flock. As much as we enjoy watching their antics, a flock as large as ours is quite costly, especially when the supply of eggs significantly exceeds the demand. Our ducks are prolific layers – giving us about two dozen or more eggs every day! However, they eat significantly more than the chickens do, and are simply more work to keep, because they really do need swimming access to keep content and clean. It is possible to keep ducks without providing them with swimming pools or a pond, but we want our animals to be contented with their lives, as we have found that they produce the best quality foods when they are happy. So we want to provide them with the things that bring them happiness, and ducks love splashing in water.
What we have experienced is that we end up with a lot of duck eggs in our refrigerator, taking up space that we need for other things, and costing us more to produce than we are making from them. We do appreciate all of you who have been purchasing the duck eggs on a regular basis! We will be keeping a few ducks, so there will be duck eggs available, but we may not have multiple dozens available on a regular basis like we do right now. So moving forward, do be sure to check in a few days before you actually need the eggs to insure we'll have enough for you. We appreciate your understanding as we shift our efforts around to budget our time and resources most mindfully.
The goat kids are growing fast, and we will likely have a few available for sale soon. If you are looking for a buck for your herd, or for pets that can keep brush at bay, let us know. We have bucklings who can be sold intact, or we can wether them for you – but that will need to happen soon, as it must be done by a certain age, and we are right about there.
We have many juvenile pullets coming up to laying age within our chicken flock – we hope to have increased egg production by September or so. The demand for chicken eggs has well exceeded the supply, and this has resulted in shortages, for which we apologize. We are trying to remedy this as quickly as possible, but it is worth noting that chickens take about four to six months to start laying eggs. We are anxiously awaiting those first little pullet eggs!
Finally, I've been dealing with quite a few health issues over the past couple of months, including migraines and other pains. This often results in limited availability for discussions and tours, because I have to reserve my energy for keeping care of the animals. I do apologize if I've been unable to accommodate anyone because of these limitations, and hope that I'll have the opportunity to serve you in the future.
I'll make no promises that I cannot keep – but I will try to update again soon! Thanks for your patience and for reading!
Related Images: