I must admit, I am feeling a bit of the same glee that Steve Martin did in The Jerk, ever since I found out that my recipe for Maple Toast Egg Cups, which you may have seen here in our Farm Cookbook section, was going to be published in the Spring edition of Tractor Supply Company's Out Here magazine.
We had some supplies to pick up on Sunday at TSC, so I picked up a copy of the magazine, and there really is something shiny about seeing your name in print (and it's not in the crime blotter). (Not that I'd know what that's like.) (And let's be honest, most newspapers don't print names in those any more anyway.)
But I digress. While this isn't my first time seeing my name in print in a magazine, it's been a lot of years since the last time, and yet, still as thrilling! The last time for me was during my career in the computerized embroidery equipment field. And yes, I still have copies of those magazines, which were very much niche markets, much like this publication. One of these days I'll have to dig those up and scan them in, too. In the meantime, here's a scan of the recipe, with all credits going back to Tractor Supply's Out Here magazine. Click the image to embiggen.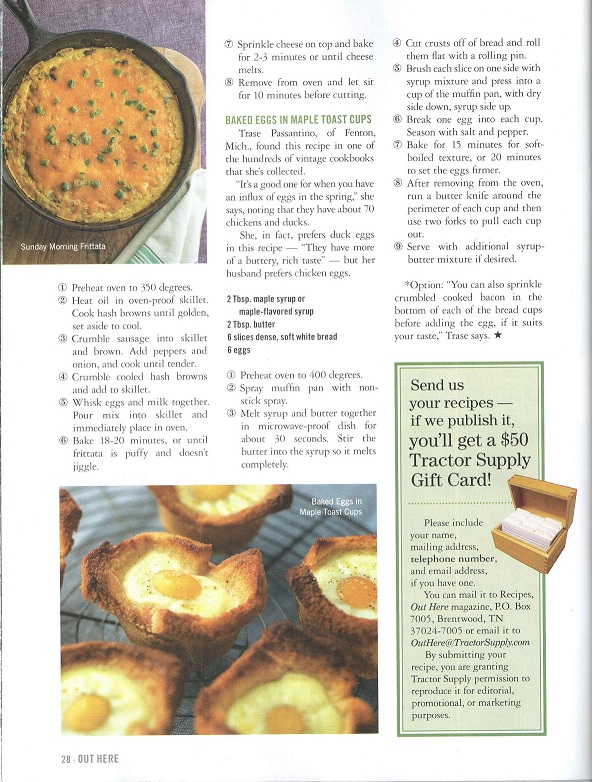 Have you ever tried any of the recipes from our online Farm Cookbook? Do you find it useful? I know there's not much out there right now, but I'll add to it if there is an interest! Please share your thoughts in the comments. Thanks!
Related Images: