We have a variety of goats available for sale – adult milkers, kids to raise as milkers or pets, as well as some meat goats. The weather has been so dreary, and I've been battling a case of walking pneumonia myself, so I haven't been able to get any good photos of the milker/pet candidates, but I will endeavor to get those posted up as soon as possible.  Here's some basic information in the meantime.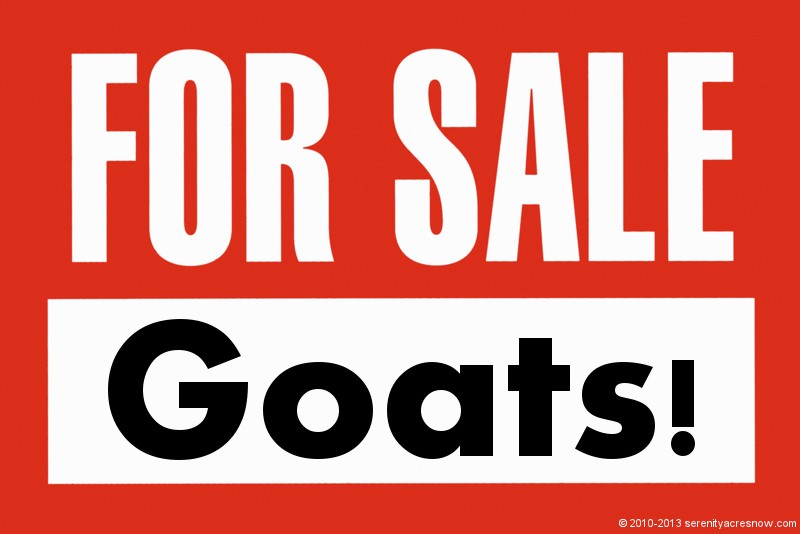 Adult Milkers: We have a registered American Alpine and a registered Nigerian Dwarf, both currently in milk as they have kidded this year. Both have ADGA registration paperwork and tested negative through Washington State University for CAE/CL.
Kids: We have some Nigerian Dwarf kids for sale – we are awaiting paperwork on them – a doeling and several bucklings who can be wethered (neutered) if they are desired as pets. Two of the bucklings come from a sire who is papered, but their mother (a blue-eyed beauty) is not. All of these kids mothers tested negative for CAE/CL through WSU.
Meat Goats: We also have several goats available for sale as meat, ranging in age from a couple of months (popular as cabrito) to over a year old. We do not have on-site slaughtering services. For a nominal fee, we can transport  live animals to Richardson's Meat Processing in Linden. You would pay Serenity Acres Now, LLC $2.25 per pound hanging weight, and then pay directly to Richardson's the butchering/processing fee (about $60), and pick up the meat from their location. (4402 Cohoctah Rd, Linden, MI) Arrangements must be made in advance for us to drop off the animals – it typically takes anywhere from a week to ten days between our drop-off and your pick-up.
If you are interested in talking to us about any of the above, please get in touch by filling out our contact form! Thanks!
Related Images: